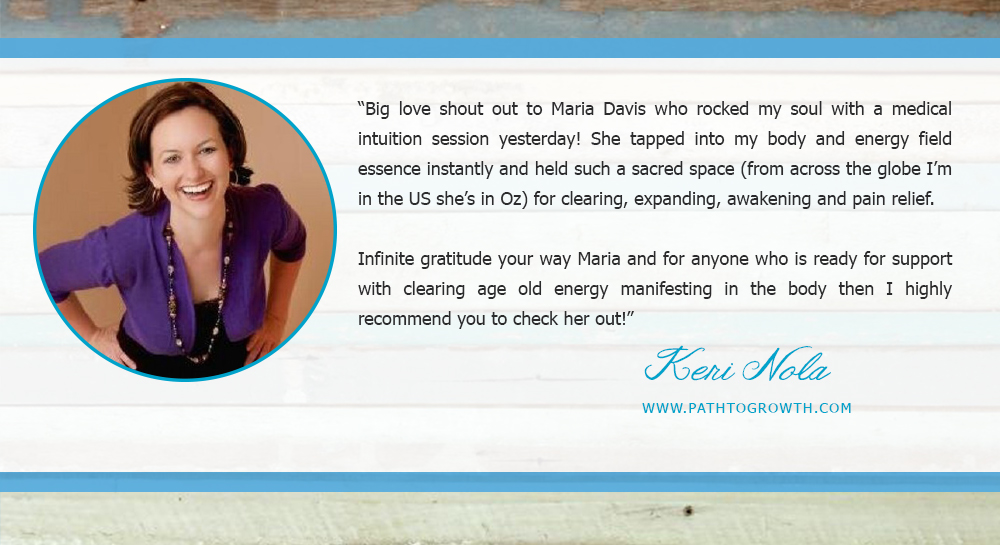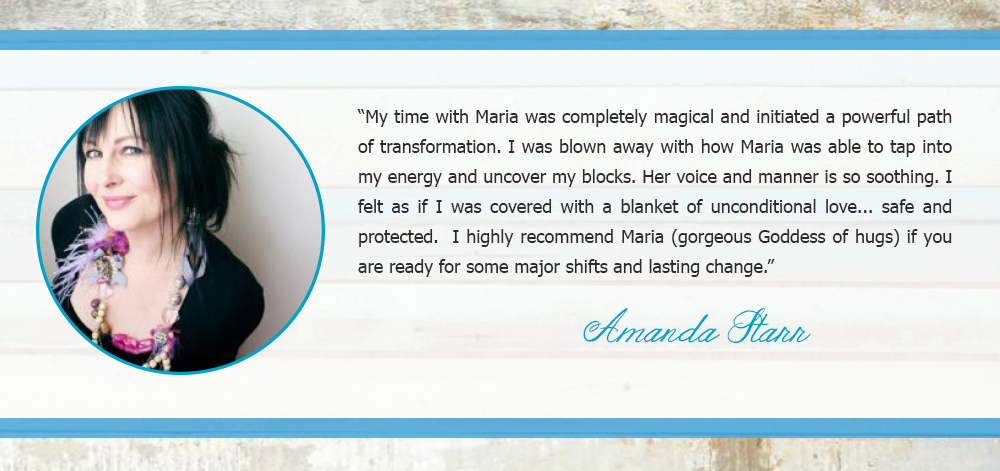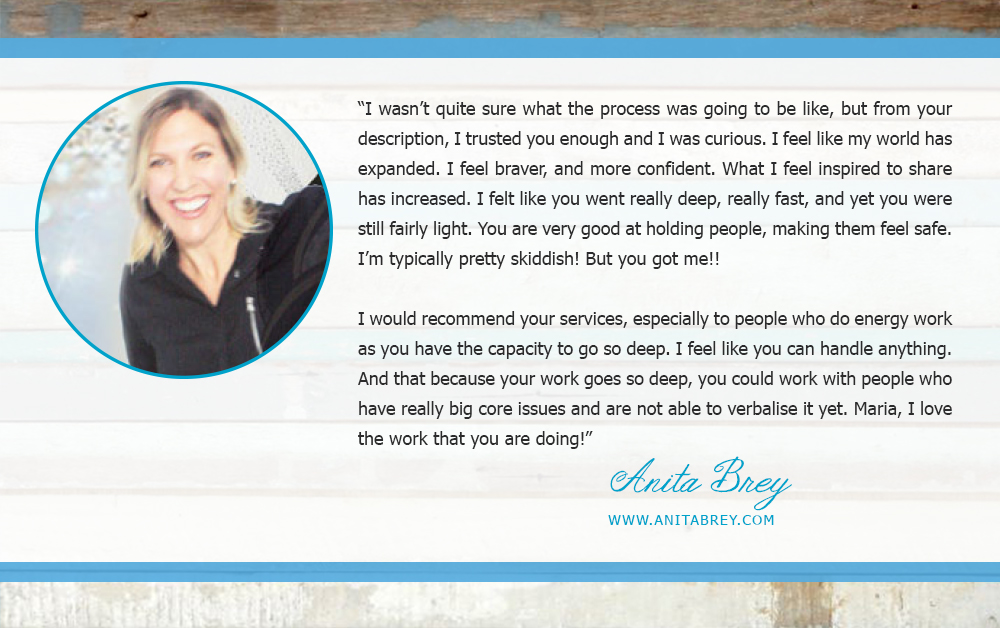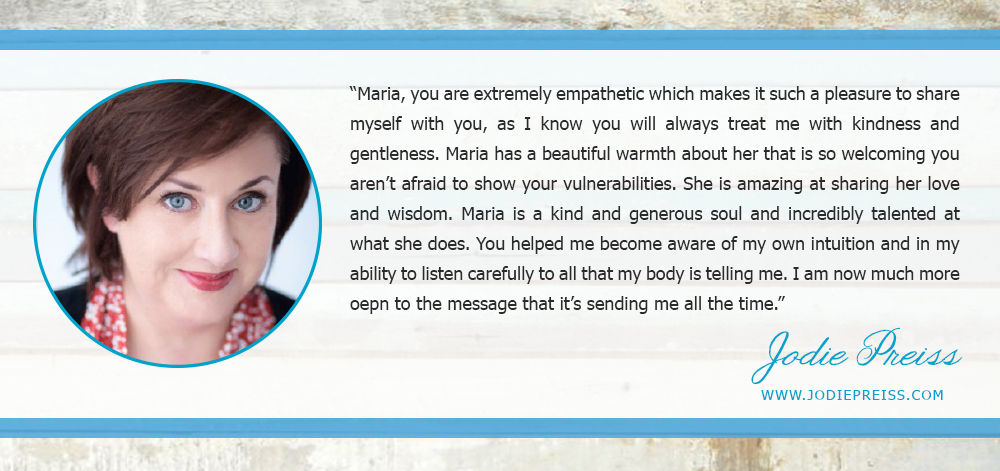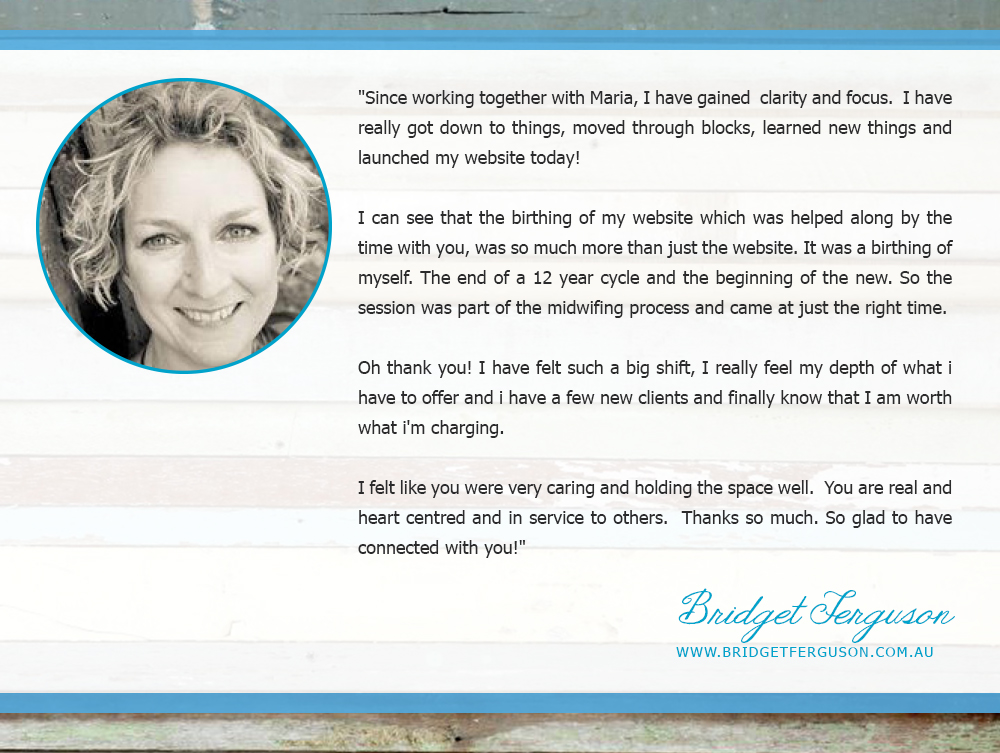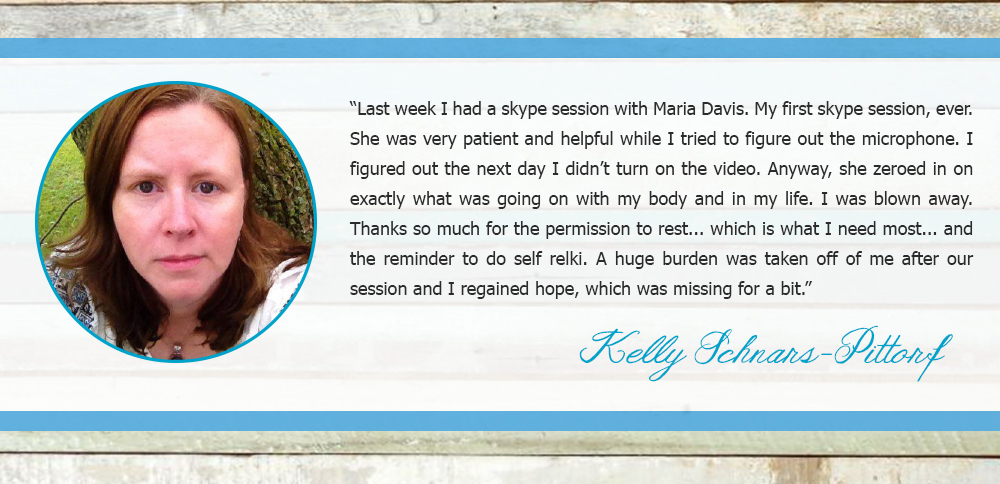 "Maria and I have met weekly on Skype for a couple of months now. Our conversations were related to an online course we were both enrolled in.
Maria has had no idea I suffered from what at times was, immobilizing pain down the entire right side of my body. I assumed the pain I suffered from was a result of stress and a previous injury and that I would have this pain for the rest of my life. I'd lived with the pain for almost 2 years already.
After our first call together I noticed the pain in my body was less than usual. After our second call even less. By the third call the pain seemed to have disappeared. Since then I have noticed that my mood is much lighter after our conversations and I feel such hope about life. The physical pain I have suffered from for almost 2 years is entirely gone.
I am writing this testimonial because I am convinced my healing is a result of being happily in her presence for several weeks. She had no idea I had this pain. She didn't know this healing was happening for me. There is something about Maria's work and the study and dedication she brings to her work with people that is making it possible for her to heal without even knowing she is doing it. Thank you, Maria!"
Susan Seale, Coach, www.susanseale.com
Susan Seale, Coach
"I am sleeping better and my neck is no longer seized up. You were also able to identify problem areas through my arms that I was not consciously aware of, and once you had worked on them, it had made all the difference to my neck and shoulders and how I felt while working at my desk. The physical discomfort and the mental blocks that I was living with for far too long have now subsided!
You exude positive energy and a nurturing spirit, and I never feel like a number. You happily talk me through the problem areas that you identify, and through your exploration, explanation and education I am left feeling completely confident and comfortable with how you are addressing the issues during the session, and I never feel 'left in the dark'.
I feel so much better because ultimately, it's about finding relief. It's amazing how physical blocks can extend to mental blocks. Feeling better physically, instantly frees the mind to focus better and leaves you feeling positive!
Yolanda Muser
"Maria, Maria, Maria! I didn't go to Maria for pain relief, I went to her for energy clearing of things that are going on in my life. She definitely has a gift of intuitively sensing where you are, picking up what bothers you, and having a full set of tools under her belt to help you! I feel very fortunate to experience such loving and encouraging guidance. I cried and then felt uplifted at the end. Thank you, Maria, for the wonderful session to start my day. "
WanbunHo

"When I met with Maria I was feeling frustrated and overwhelmed with not one but several issues. Very quickly, she uncovered the source of what was causing my physical ailments. She is amazingly gifted and I felt at ease with her warm loving presence. I had so many a-ha moments during our time together as she was able to connect the dots with what was going on with me inside to what was happening on the outside. Not only did she give me the tools I needed to find my way to balance, but I left our conversation feeling light and free.
The changes I've experienced since my session with Maria have been astounding – unlike anything I have tried – and I've tried a lot! She is like a bright star gently guiding you home to yourself where healing begins. Thank you Maria!"
– Empowerment coach + Yoga Teacher www.teresaneuhaus.com
Teresa Neauhaus
"I came to Maria having suffered with chronic sinusitis that had become increasingly worse over the past few months. In a few minutes Maria had a feeling for what was going on and helped me uncover it…which was actually an emotional issue. Her kindness and fun personality was a delightful experience in and of itself. But her intuitive ability to help me not only SEE my sinusitis in a new way, but also take care of it practically and energetically was amazing.
After our session together, I was able to breathe through my nose for the first time in months. Yay! In short (because I seriously could go on and on), my time with Maria was a wonderful blessing! Thank you Maria! "
Deana Ward, Life Coach & Chaos Whisperer, www.yourhappystuff.com
Deana Ward

Sonja Limone
"When I heard about Maria's services, I was curious to give it a shot as I suffered from constant neck pain and headaches over several years.Her intuitive approach just blew my mind from the first minute we spoke! She effortlessly located the pain areas in my body over a distance of 9000 miles and started the healing process. I just couldn't believe how she was able to connect with me on a physical level and trigger body reactions that immediately allowed me to feel more balanced and grounded. What I loved about her approach was the combination of intuitive healing and practical exercises that I can do by myself. After one hour of working with her, I could tell that we had done intense bodywork and that something inside of me had shifted; my body was craving for a rest and I slept like a rock for 30 minutes. I left the session not only with tangible steps to work through in order to improve my situation, but also with a sense of strength and harmony in my whole body. Maria truly is an angel on earth!
Thank you so much!"
Sonja Limóne, www.miraclestogo.com
Sonja Limone

Maria has an amazing gift of Medical Intuition. During our session together, I went from feeling disorganized (although I didn't even realize that at the time) to grounded and connected in my body. Maria was able to pick up nuances in my throat chakra, and supported me in noticing the energy coming up at moments I didn't feel confident. This alone was an incredible breakthrough for me in my work as a speech-language pathologist and coach. She also went right to my sacral chakra and supported me with a healing exercise to bring love and light to each cell in my body. It was something I wanted everyone to experience – especially people I knew who were living with pain. Maria is the real deal! She has an incredible gift of healing and guiding you to listen to the messages within your own body. Thank you so much Maria! love, Ellen Nightingale"
Ellen Nightingale
"I've worked with many healers in the past and was delighted with Maria's authenticity and accuracy. I was amazed at how intuitively she picked up on sensations in my body from the other side of the world. I felt so much lighter and clearer after working with her. The dull ache in my hip has vanished. I feel more excited and confident to move forward with a project I have been crafting. I am so thankful for my time with Maria. She is truly gifted."
Kat Moulton

Elizabeth MacLeod
OMG! I feel so clear after talking with Maria. She knows how to clear out the cobwebs of confusion and lay it on the line. Not only that… wait until you hear her listen to your body talk. It will take you to another level of understanding what is happening for you in your life. This woman is a dear. I like her. I recommend her without hesitation or thought. If you need to know what is going on inside of or in your business, talk with her. You won't regret it. Elizabeth MacLeod www.wildwomanenchanted.com Founder of Wild Woman Enchanted
Elizabeth MacLeod

"Maria & I met online through mutual interests. I was amazed that she contacted me to help with debilitating frozen shoulder pain. I worked with her via Skype on two occasions & she was able to help me see what was happening energetically in my body & mind that was causing the pain. She was spot on firstly identifying the symptoms & then the reasons. On both occasions the pain improved & the movement was a little easier. This insight is allowing me to move forward & free myself of a frozen shoulder.Thank you Maria for your warmth, creating a safe place & cradling me while I looked at something different to traditional medicine. Sharon Lagan – relationship Healer."
Sharon Lagan

"Maria is a fantastic healer. Her ability to tune into my body and understand the physical pain I felt while going through the grieving process was phenomenal, through the use of crystals and her intuition she was able to release the physical and emotional pain from within. I felt nothing short of amazing after our session had finished. I would thoroughly recommend working with Maria Heals, I'm sure you too will enjoy the amazing results" Nicola"
Nicola Simpson – Celebrity Author
"Maria has an incredible gift and talent that allows her to be absolutely in tune with not only her clients' feelings, but also with exactly what they are feeling in their bodies. Even more than that, she knows what implications that pain or discomfort has in their current lives. And then she's able to help them release it. I know this firsthand from my Medical Intuitive session with Maria. During our session, she was able to articulate exactly how my body reacted to some questions she asked me without my saying a word. It's pure magic; you don't have to understand how she does it to believe it. Maria also gave me some practical tools to help me better understand what my body is telling me. She's also tremendously knowledgable, insightful, and wise, and she immediately puts you at ease with her warm smile and loving presence. If you are tired of chronic pain or just confused by what your body is trying to tell you, give yourself a gift and work with Maria. The only thing you have to lose is whatever pain you've been struggling with. What are you waiting for??"
ElisiaBrodeur

I had no hesitation in wanting to work with Maria, she has a lovely healing energy and beautiful heart. I sought her services because of lower back problems, she is incredibly knowledgeable about how the body works and how to live pain free I'm so grateful for her work. She is living her passion and you can tell, I highly recommend her."
Jocasta Norman

"Maria showed me how to infuse love into my problem hip and listen to its lessons. I was amazed by how accurately she sensed what was going on in my body. I didn't expect that by loosening up my hip, I would begin to breathe more deeply – what a nice bonus! I really appreciated the practical exercises she gave me to to strengthen and listen to my challenges. Thanks you for sharing your wonderful gift with me, Maria!"
Jill Barber
"How does she do it? I don't know, but she does and I was both awed and grateful to be the recipient of Maria's intuitive healing touch when I met her at a recent event. Within seconds of hearing that I was in pain from my knee, Maria was hands on, finding the source (which was actually NOT my knee like I thought) and somehow pulling things back into place. I could feel the tangible difference she was able to make in an incredibly short space of time. That in itself was remarkable, but the true value of Maria goes beyond her remedial skills. She creates a loving connection, where you feel just how much she cares about you, her craft and bringing relief and insight. I have never felt in better hands."
Angela Raspass