Hi there! I'm Maria… and I've been called many names over the course of my life: "crybaby," "weak," "too emotional" and "too sensitive." 
It took me many years to understand, but one day, I realized that what other people thought was "wrong" with me was actually my most precious gift. 
Just like my father and my grandmother Teresa – who was sought after by Italian villagers seeking relief from pain and disease – I am a healer. 
It's in my family history. It's in my heart and blood. And it's what I love to do. 
I have been a Healer for 40+ years. 
Now I use these skills to support other Healers become wealthy, achieve their own version of success as Spiritual Entrepreneurs.
From years of looking for the answers and thinking that everyone else out there, had those, I wasted a lot of money on coaches who could not help me as they did not understand or appreciate the nuances of energies and the Empath.
I've discovered a simple, doable and practical way of being an online Spiritual Entrepreneur who has consistent income and feels supported everyday.
My name is Maria — and I'm waiting, with open arms and big love.
If you're in struggling to achieve to have consistent income monthly and would like to dive deeper of what is possible, I invite you to have an energy reading with me.  I can share where you have wounds, karmic or otherwise and then we can clear the path towards less pain and struggle in mind, body and soul.
My calling is to share the wisdom I have gathered over the last 40+ years with others who want to heal their world first and then the world.
I want you to know that I am here and I want to support you.
Book in an Intuitive Healing Session with me. This session is for 30mins together.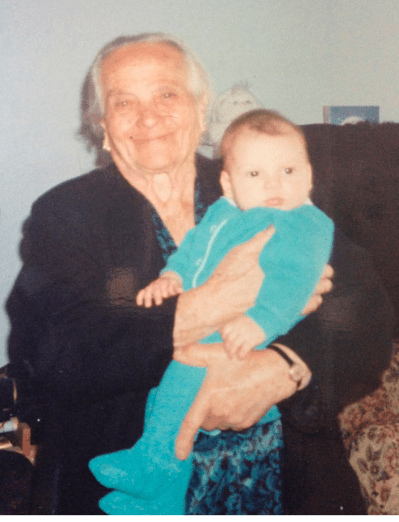 Nonna Teresa with my daughter