Spiritual Pilgrimage and catastrophe – how one transcended the other and turned into my biggest gift.
The day my worst nightmare came true and inspiration arrived.
After falling twice in 2009 and then again in 2010 – the falls were 6 months apart to the day – breaking my arm first and then my leg – my worst nightmare was to fall again and break something else – CATASTROPHE!
You see, back in 2010, after breaking my leg, I fell into a deep depression as it was the first time in my life, that I found myself incapacitated – an invalid – I even had an invalid sticker in the car. I was in a wheelchair and I was half the woman, I knew myself to be.
I was on a journey of self-destruct. I didn't know then but I do now.
So to fall again was one of my biggest fears.
Well guess what?!
I was on Spiritual Pilgrimage in Bali and it was only the 3rd day (second full day and I fell) – slipped in the torrential downpour. I slipped and landed hard. I winded myself and I cried like I have never cried before. I suddenly felt old and worthless.
Catastrophe
My nightmare had come true.
Initially I was in shock. I was in awe of the graze on my arm. This was only the exterior. On reflection my body was battered on the inside but only showed a small portion – one that I could cope with. It kept me informed incrementally. Things kept unfolding.
First my arm quickly bruised from the whole elbow down to my wrist and up towards my armpit. It looked like I had been in a very bad accident. In fact the locals that saw it thought I had had a motor bike accident.
There was a bruise on my upper right arm too.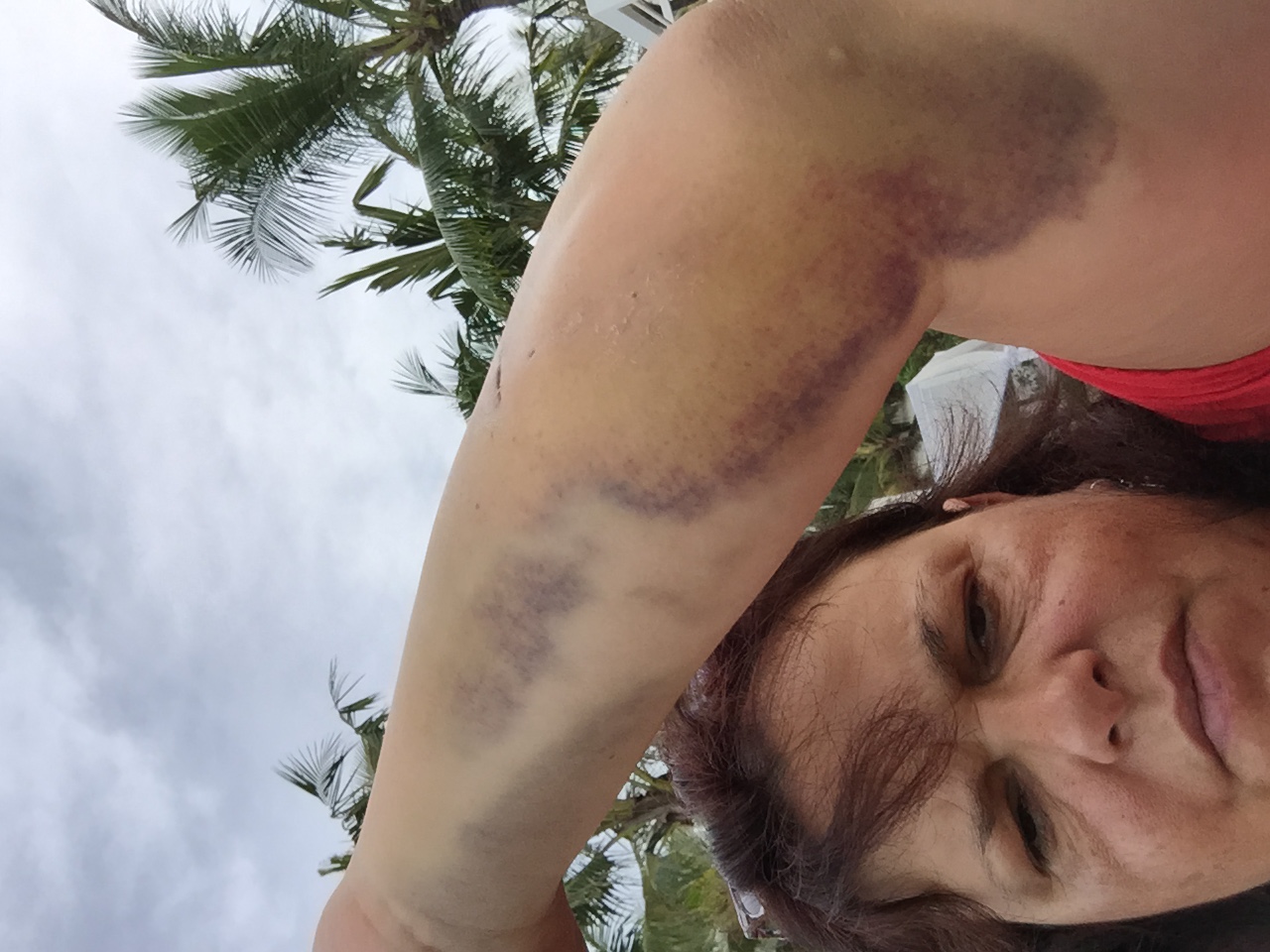 What I didn't realize as I landed heavily on my thoracic ribcage during the fall, my thoracic spine had bruised and my ribcage had shifted slightly.   As everytime I lay a certain angle, turned, it took my breath away.
My arm was numb for a week and I was getting tingles in my fingers. On reflection, it was bad.
But I have this "can do" attitude and tend to ignore pain until it gets too much. Can you relate?
Well, it was over a week and I was staying at this beautiful guesthouse in Ubud. The owner had seen my bruise and asked about it.
The owner Made said – "come on – I will take you to my local healer".
I went to the Healer and I knew then how bad it was. I was in a lot of pain when he was adjusting my body. He corrected it and aligned it. Afterwards, I basically slept for the next few days and started to heal.
Heal my body, my mind and my soul.
Transcendence
From the trauma, I realized that transcendence is as much a state of mind as it is physical healing. Very spiritual. I think that this was part of my awakening to another level.
Yesterday it was Day 13 of my Spiritual Pilgrimage and I felt lonely, wanted to get on a plane and go home. I had just left Ubud and was now in Sanur. I didn't have the strength to navigate my way around somewhere new. I even got lost – but I found my way (as I always do).
But guess what happened this morning. Day 14 of my Spiritual Pilgrimage, I felt lighter and stronger than I have ever felt. I have found a deep inner quiet strength. My body is in less pain and my bruising is healing. Go figure – what a mere 12 hours can do.
So I guess the moral of the story
Don't try and beat the rain, go quietly.
Know that spirituality is an inside and an integrated job, mind, body and soul.
Trust is one of the biggest elements.
Your body needs time to heal and your soul needs time to be heard.
Together they make an awesome partnership.
Things can look different through less pain and a different perspective. If you are in pain or suffering, please reach out – there is always something new to try.
I posted videos daily of my Spiritual Pilgrimage here FB Page – here's the link.   Funnily or not, I didn't talk much about the accident as I was too ashamed but now I feel I have healed that part of me. I wanted to share it with you so you know you can heal all parts of you too. Because we are all the same, same but different.  Want to stay connected, receive special resources and discounts on services first, click here to join the Maverick Manifestor Community.
Love to all, Maria xx