It always good before any serious meditation, any kind of spiritual work to make sure you have cleared the area.   Smudging the area with sage clears any dormant energies that are hanging out in your space.  
Smudging occurs before you open the sacred container before any magical workings. 
Use Sage for
smudging,

purifying,

release and repel negative energies,

spiritual tool,

improves your mood and

help to destress.
Lighting Your Sage
When you light your sage, take a moment to release any distractions, any energies that feels stuck in you, any energy at all that needs to moved.  Creating space for the work.  This is really what smudging does.  It creates space between you and your emotions, between you and other people's energy, between you and any thoughts causing you to be distracted and not present.  It is very centering, soothing and calming.  It does all of these things, which we love.  
Collect the ash of your sage and place it in your garden, because it is full of nutrients.  Returning it to Gaia.  You can do this in ceremony which is very special.  If you have ash, don't trash your ash.  Always save it for your plants – they really appreciate it.  It is the best fertiliser for your garden.  Watch your plants thrive with the ash of sage.  Magical and powerful.
White sage (Salvia apiana) is antimicrobial (active against microbes).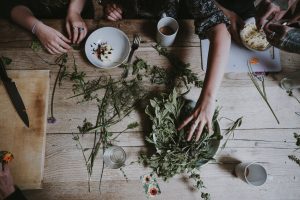 Storing Your Sage
I store mine on my Altar in an abalone shell.  Intensifying and connecting its correspondence both with Mother Earth and Water (emotions).  Then it is always handy.  I smudge a few times a day.  If you are working with energy and providing a service to the world via energy, it is so important to clear and keep your energy safe and supported too.
I am pleased to stock only stock ethically sourced sage – click here to purchase your sage.